June 17th & 18th, 2016 – Isthmus Jazz Festival Free Concerts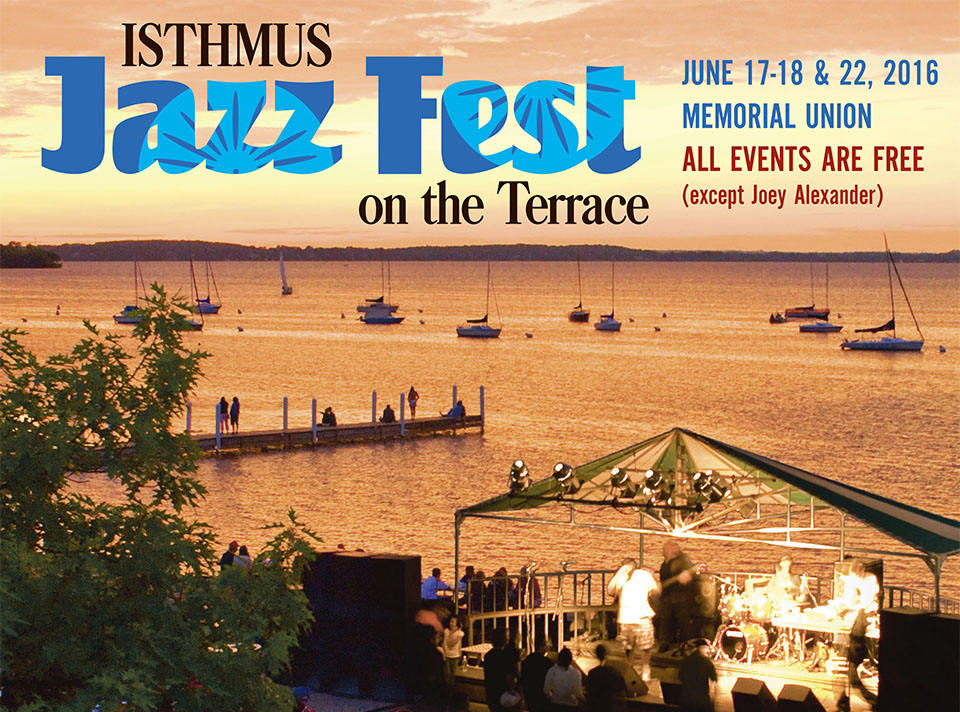 Produced by the Wisconsin Union Theater and held on the UW Memorial Union Terrace (or in Shannon Hall, if bad weather), Day 1 includes free performances by three local ensembles and a headline performance by the Chicago Yestet.
 June 17th
June 18th
Day 2 on the Terrace includes free performances by six Wisconsin-based bands including four college ensembles performing standard and contemporary big band music, a return engagement by outstanding Washington DC-based vocalist Sharόn Clark, and Madison's own jazz diva, Gerri DiMaggio.
2:00-3:00 PM: Edgewood College Jazz Ensemble.  Led by alto saxophonist Dan Wallach, the Ensemble features a mix of Edgewood College students and community members, some of whom are students at UW-Madison.
3:15-4:15 PM: UW-Whitewater Jazz Ensemble One.  Led by Professor of Saxophone Matthew Sintchak, this is UW-Whitewater's premier student jazz ensemble. 
4:30-5:30 PM: UW-Platteville Jazz One.  Led by Jazz Studies Director and Professor of Saxophone Allen Cordingley, this is UW-Platteville's premier jazz ensemble.
6:00-7:30 PM: Gerri DiMaggio.  The iconic Madison-based vocalist changes things up each time she performs at the Festival. This year, she'll appear with a quartet and perform originals, Brazilian Samba, and straight-ahead jazz.
8:00-9:30 PM: UW Jazz Orchestra with Sharόn Clark.  A master interpreter of jazz standards, Sharón Clark appears regularly as a featured soloist with the Smithsonian Jazz Masterworks Orchestra and at major jazz festivals.  She has won New York City's Bistro Award for Best Vocalist, and placed first in the Billie Holiday Vocal Competition.  Her most recent CD is "Do it Again: My Tribute to Shirley Horn." Check out her music at

www.youtube.com/watch?v=wrLS0KSmy3Y&list=PL1EE5F289C48158E0

.  For the Isthmus Festival, Sharón reunites with the UWJO (UW-Madison's student big band directed by Johannes Wallmann) with whom she gave a very well-received concert at Old Music Hall this past February.  
10:00-11:30 PM: Charanga Agozá.  Day 2 wraps up with Madison's great 10-piece band, Charanga Agozá.  The band plays traditional Afro-Cuban dance music including danzόn, chachacha, and mambo in addition to charanga. 

http://www.charangaagoza.com/about/

.