Mission, Goals and Core Partners
The Greater Madison Jazz Consortium is a community-supported coalition of nonpro t jazz presenting organizations, educational institutions, supportive media, and individuals working together to create a more vibrant and sustainable local jazz scene. We pursue this mission through Consortium-led programs and by supporting the e orts of our partner organizations.
The Consortium was formed to tackle challenges to our local jazz community that are too big for any one organization to address successfully. These challenges are re ected in our four goals that emerged from an exhaustive survey of jazz community stakeholders and a series of "town hall" meetings with local jazz musicians.
Create a more supportive climate for our local jazz musicians and venues
Expand and diversify the local audience for jazz
Cultivate the next generation of jazz musicians and fans
Attract more top- ight touring jazz artists to perform in our community
Our K-8 Program sends professional teaching musicians into local elementary
and secondary schools to help music teachers enrich jazz education. Each host teacher gets to select their guest artist and instructional goals and then works with him/her to plan and conduct a jazz residency. In 2015, we supported residencies at two middle schools and four elementary schools in the Madison district.
"My students learned so much in just two weeks. It was great to have exposure to Afro-Cuban jazz, an area in which I have limited knowledge. Now I feel very comfortable doing a similar unit on my own in future years, and have new curriculum!!"
– Rhonda Chalone, General Music Teacher, Huegel Elementary
2015 JAZZ RESIDENCIES
CHEROKEE MIDDLE: "Spoken Word and the Connections BetweenHip Hop and Jazz" (Improvising Spoken Word Artist Rob Dz, with Choral Teacher Luke Hrovat-Staedter)
HUEGEL ELEMENTARY: "Feeling Swing" (UW Latin Jazz Ensemble Director Eric Siereveld, with General Music Teacher Rhonda Chalone)
MUIR ELEMENTARY: "The African Roots of Jazz" (Pianist Michael Butkus-Bomier, with General Music Teacher Christa Kowert)
STEPHENS ELEMENTARY: "Exposing Students to Jazz Music and Improvisation" (Bassist Laurie Lang, with General Music Teacher Regina Haugen)
THOREAU ELEMENTARY: "Shared Music-Making to Promote Creative Thinking" (Percussionist Joseph White, with General Music Teacher Emily Whalley)
WHITEHORSE MIDDLE: "Latin Jazz" (Madison College Jazz Director Jamie Kember, with Band Teacher Alyssa Buss)
On Saturday mornings, when most of their peers were still asleep, our "Live Soundz" program was bringing middle- and high-school student musicians to the Goodman Community Center for a half-day jazz academy. Each week, under the tutelage of our outstanding team of professional jazz teaching musicians, these students participated in music appreciation, instrumental and vocal instruction, and ensemble sessions leading to public performances at the Goodman Center's Family Fun Nights and on the youth stage at the Consortium's Strollin' Schenk's Corners and Hilldale events.
"It's been a great experience for our kids. Many of them who had little or no experience are now reading charts and performing complex tunes."
-Zach Watson, Live Soundz Teaching Musician, Goodman Community Center Youth Program Manager
"This program has been a great creative outlet for my son. It allows him to express freely what has been bottled up inside for such a long time. It has also helped him focus more on his school work and his grades have come up signi cantly."
– Carrie Braddix Mother of Live Soundz participant Thylas Henderson
During 2015, Live Soundz served 21 student musicians, and our student ensemble performed for audiences of over 700, many of them low-income kids and adults of color. We also launched a companion program, "Music Matters," for students at the Boys & Girls Club. Meanwhile, our Live Soundz ensemble members joined their summer drum instructor to form SOUL MEN, a new band that performs regularly at the Goodman Center and around the community.
LIVE SOUNDZ TEACHING MUSICIANS IN 2015
Hanah Jon Taylor, Lead Instructor and Ensemble Director
Bruce Alford, Bass
Bif Blumfumgagnge, Violin
Rick Flowers, Drums
Bob Jacobson, Trumpet
Jalen McCullough, Drums
Judith McNeil, Vocals
Rand Moore, Drums
Charlie Painter, Guitar
Carolynn Schwartz Black, Vocals
Zach Watson, Piano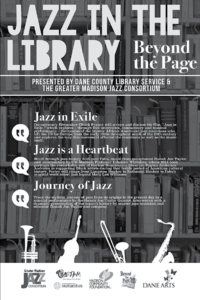 Our "Jazz in the Library" series took the music and its history to over 500 people at public library branches around Dane County.
Six of these branches hosted 'Journey of Jazz," a performance by the Hanah Jon Taylor Artet tracing the music's evolution from its West African roots through the various jazz eras on up to today, along with the cultural context in which the music was created.
Three other libraries hosted "Jazz is a Heartbeat," focusing on the Harlem Renaissance period of the 1920s and 1930s through a book reading by UW Library Science Professor Ethelene Whitmire, poetry readings by Madison Poet Laureate Emeritus Fabu Carter, and musical accompaniment by Mr. Taylor.
The other three libraries hosted Madison-based documentary lmmaker Chuck France in a presentation of "Jazz in Exile," his film that tells the story of American jazz musicians who left the USA in the 1960s and 1970s to find an audience for their music abroad.
"The 'Journey of Jazz' program was spectacular. It was comprised of humor, talent, personality, education, music and – most importantly – heart. Not only was the music fantastic, the presentation and topics covered were incredibly important and moving. Everyone in the audience was engaged, dancing in their chairs, nodding, etc., and I witnessed several 'a-ha' moments."
– Melissa Roelli, Librarian, Mt. Horeb Public Library
PARTICIPATING LIBRARIES
Goodman South Madison Library
Mt. Horeb Public Library
Madison Public Library
Central Verona Public Library
Monroe Street Library
Sun Prairie Public Library
Deer eld Public Library
Oregon Public Library
Middleton Public Library
Waunakee Public Library
Fitchburg Public Library
Marshall Community Library
GMJC Donor Listings for 2015
This listing includes gifts and grants received from 1/1/15 – 4/11/16
OVER $25,000
John and Carolyn Peterson Charitable Foundation
$10,000 – $24,999
American Girl's Fund for Children Madison Community Foundation
$5,000 – $9,999
Boys and Girls Club of Dane County Dane Arts
Madison Public Library (through the Beyond the Page Fund)
$2,500 – $4,999
Madison Arts Commission
$1,000 – $2,499
Anonymous
Altrusa Club of Madison
Electronic Theatre Controls
Evjue Foundation
Goodman Community Center
Howard Landsman
Marcia MacKenzie and Gerry Borseth
Madison Area Music Association
Madison Music Collective
MG&E Foundation
Gary Poulson
Prime Urban Properties
$500 – $999
Steve Braunginn
Lau and Bea Christensen
Gerri DiMaggio
Farley's House of Pianos
Hilldale
Pete and Jill Lundberg
Paul and Lisa Muench
$250 – $499
Custer Financial Services
Tom DeChant
Gigi's Cupcakes
Great Dane Brew Pub
Connie Kinsella and Marc Eisen
Macy's
William Martin
Monona State Bank
José Madera
Linda and Vince O'Hern
Shelley Safer & Neil Komesar
Brad Schwartz
Joe and Mary Ellyn Sensenbrenner
Toni Sikes and Bill Kraus
South Metropolitan Business Association
Ulla Eyewear
University Bookstore
$100 – $249
Anonymous
Jeffrey Boldt
Curt and Elizabeth Brink
Marion Brown
Café Porta Alba
Cardinal Bar
John Christensen
Susan Cook
Jerry Dempsey
Sue and Rob Engelke
Ed Feige and Elizabeth Palay
Laurie Fellenz
Kim Freeman
Louise Googins
Patricia Gottsacker
Ralph Hawley
Hooper Foundation
Carolyn Kau and Chris Heinrichs
Mike Kernats
Patricia and Peter Lipton
John Louderman
$100-$249 Continued…
Elsebet Lund
Madison Police Department South District
Ernest and Helen Madsen
Bob McGrath
Metcalfe's Market
Daniel and Maria Milsted
Nick and Megan Moran
Steve Morgan
Agustín Olvera
Dave and Ann Orr
Steve Paulson
Janis Reek
Kathleen Ricci
Joel Robbin
John and Cindy Rolling
Mary and Ken Rouse
Sergenian's Floor Coverings
Linda and Larry Shriberg
Betsy Stampe
Cathy Sullivan and Jim Twesme
Charles Taylor
Jayne and Mark Turner
Uncle Joe's Shoes & Sportswear
Nancy Vedder-Shults and Mark Shults
Johannes Wallmann
Connie and Ernest Wiegeshaus
UNDER $100
David Ahrens
Anonymous
Gladis Benavides
Nancy and Bill Boyle
Doug Brown
Tisha Brown
Fabu Carter
Cheryl Daniels
Paul Dietrich
John Doing Maribeth Dorn
Henry Drewal
Charles Elson
Robert Entwistle
Al Falaschi
Chuck France
Sharon Gaskill
John Hansen
Paul Hastil
Todd Hammes
Jay Heck
Susan Hofer
Leslie Ho man
Anitra Hovelson
Joan Hoyer
Shiloh Jaxen
Jamie Kember
Nancy Kendrick
Bob Kerwin
Dick and Claire Kotenbeutel
Patricia Kramer
William Lane
Lane's Bakery
Linda Lerch
Barbara Lewis
Margaret McEntire
Micah Media Group
Anne Miner
Stefanie Moritz
Nancy Motisi
Andrea Musher
David Peterson
Jeffrey Potter
Jane Reynolds
Mark Rickenbach
Michael Rothschild
Ralph Russo
Jean and Kenneth Scheid
Finances
Grant funding, especially from the John and Carolyn Peterson Charitable Foundation, has provided the vast majority of our support since our founding in Fall 2012. In 2015, we diversi ed our base of grant support and began a systematic e ort to generate support from program sponsors in the business community and individual donors. 2015 was the rst year that sources other than the Peterson Foundation provided the majority of our support.
Board, Consultant Team & Musician Advisory Team
2015 BOARD OF DIRECTORS
Steve Braunginn, Representing WORT-FM
Gerri DiMaggio, At-Large Member
Laurie Fellenz, Secretary, Representing the Madison Metropolitan School District Arts Education
Mike Kernats, Representing Madison Jazz Society
Howard Landsman, Treasurer, At-Large Member
José Madera, At-Large Member
Gary Poulson, Chair, Representing Midwest Gypsy Swing Fest
Ralph Russo, Representing the Wisconsin Union Theater
Chris Wagoner, Representing Madison Music Collective
Johannes Wallmann, Vice Chair, Representing the UW School of Music
2015 CONSULTANT TEAM
John Christensen, Web Design Consultant
Susan Fox, Nonproft Partnerships Consultant
Boris Frank, Fund Development Consultant (January – June 2015)
Rob Lundberg, Venue Development Consultant
Nick Moran, Program Development and Production Consultant
Leotha Stanley, K-8 Programs Consultant (January-October 2015)
Darren Sterud, Venue Development Consultant (beginning in 2016)
Cathy Sullivan, Special Events Consultant
Kathy Utley, Fund Development and Marketing Consultant (April – December 2015)
Doug White, K-8 Programs Consultant (November-December 2015)
MUSICIAN ADVISORY TEAM
Gerri DiMaggio
Dan Flynn
Susan Hofer
Rob Lundberg
Nick Moran
Paul Muench
Jon Standridge
Darren Sterud