JAZZ IN THE LIBRARY Tuesday, April 7th-Friday, May 22nd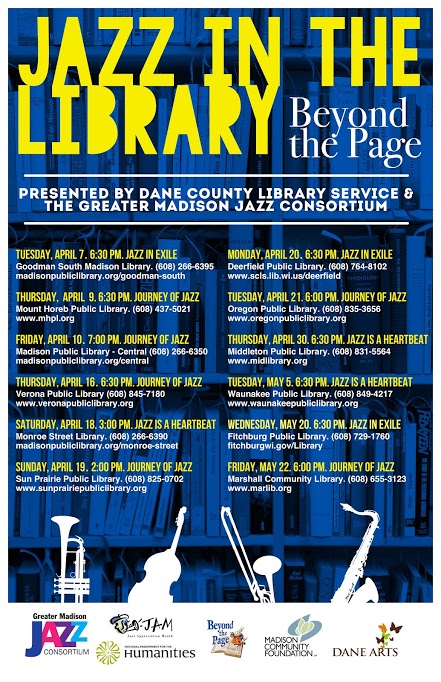 April is Jazz Appreciation Month.  It was so declared (in 2002) by the Smithsonian's National Museum of American History, as a way to draw greater public attention to the extraordinary heritage and history of jazz and its importance to America's cultural heritage and to stimulate the jazz scene by encouraging people of all ages to participate in the music.
This year, Greater Madison is ramping up its celebration of Jazz History Month with two new programs sponsored by the Jazz Consortium in partnership with local public libraries, and admission is free to both.  In our "Jazz in the Library" series, 12 library branches across Dane County (3 in Madison, and 9 in surrounding communities), each participating branch will present one of three programs.
---
Journey of Jazz traces the stylistic evolution of jazz from its origins to the present day, in a musical performance by the Hanah Jon Taylor Quintet, interwoven with a dramatic presentation of the music's history by Mr. Taylor and company.

 

(Mt. Horeb, 4/9/15, 6:30 PM; Madison Central, 4/10/15, 7:00 PM; Verona, 4/16/15, 6:30 PM; Sun Prairie, 4/19/15, 2:00 PM; Oregon, 4/21/15, 6:00 PM; Marshall, 5/22/15, 6:00 PM)
Jazz is a Heartbeat focuses on the Harlem Renaissance, with readings by Madison Poet Laureate Emeritus Fabu accompanied by live music from Hanah Jon Taylor, and a book talk by UW Professor Ethelene Whitmire, author of the new biography, Regina Anderson Andrews, Harlem Renaissance Librarian.

 

(Monroe Street, 4/18/15, 3:00 PM; Middleton, 4/30/15, 6:30 PM; Waunakee, 5/5/15, 6:30 PM)
Jazz in Exile features Madison-based filmmaker Chuck France screening and discuss his seminal documentary film, Jazz in Exile, which examines the flight of American jazz musicians to Europe where their music found much larger and more appreciative audiences.

 

(Goodman South Madison, 4/7/15, 6:30 PM; Deerfield, 4/20/15, 6:30 PM; Fitchburg, 5/20/15, 6:30 PM).
*Tuesday, April 7 6:30 p.m. Jazz in Exile  Goodman South Madison Library madisonpubliclibrary.org/goodman-south | (608) 266-6395
*Thursday, April 9 6: 30 p.m. Journey of Jazz  Mount Horeb Public Library www.mhpl.org | (608) 437-5021
*Friday, April 10 7 p.m. Journey of Jazz  Madison Public Library's Central Library madisonpubliclibrary.org/central | (608) 266-6350
*Thursday, April 16 6:30 p.m. Journey of Jazz  Verona Public Library www.veronapubliclibrary.org | (608) 845-7180
*Saturday, April 18 3:00 p.m. Jazz is a Heartbeat  Monroe Street Library madisonpubliclibrary.org/monroe-street | (608) 266-6390
*Sunday, April 19 2:00 p.m. Journey of Jazz  Sun Prairie Public Library www.sunprairiepubliclibrary.org | (608) 825-0702
*Monday, April 20 6:30 p.m. Jazz in Exile  Deerfield Public Library www.scls.lib.wi.us/deerfield | (608) 764-8102
*Tuesday, April 21 6:00 p.m. Journey of Jazz  Oregon Public Library www.oregonpubliclibrary.org | (608) 835-3656
*Thursday, April 30 6:30 p.m. Jazz is a Heartbeat  Middleton Public Library www.midlibrary.org | (608) 831-5564
*Tuesday, May 5 6:30 p.m. Jazz is a Heartbeat  Waunakee Public Library www.waunakeepubliclibrary.org | (608) 849-4217
*Wednesday, May 20 6:30 p.m. Jazz in Exile  Fitchburg Public Library fitchburgwi.gov/Library | (608) 729-1760
*Friday, May 22 6:00 p.m. Journey of Jazz  Marshall Community Library www.marlib.org | (608) 655-3123
Journey of Jazz
Mount Horeb Public Library www.mhpl.org 608-437-5021
Madison Public Library's Central Library madisonpubliclibrary.org/central 608-266-6350
Verona Public Library www.veronapubliclibrary.org 608-845-7180
Sun Prairie Public Library www.sunprairiepubliclibrary.org 608-825-7323
Oregon Public Library www.oregonpubliclibrary.org 608-835-3656
Marshall Community Library www.marlib.org 608-655-3123
Jazz Is a Heartbeat
Monroe Street Library madisonpubliclibrary.org/monroe-street 608-266-6390
Waunakee Public Library www.waunakeepubliclibrary.org 608-849-4217
Middleton Public Library www.midlibrary.org 608-831-5564
Jazz in Exile
Goodman South Madison Library madisonpubliclibrary.org/goodman-south 608-266-6395
Deerfield Public Library www.scls.lib.wi.us/deerfield 608-764-8102
Fitchburg Public Library fitchburgwi.gov/Library 608-729-1760