June 17th, 2016 – "Jazz With Class" — Isthmus Jazz Festival Educational Programs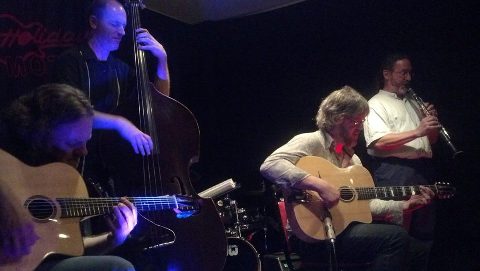 Produced by Madison Music Collective in the Memorial Union's Frederic March Play Circle, local jazz musicians and enthusiasts present a free series of illuminating music conversations, films, lectures and performances. http://www.madisonmusiccollective.org/. Three programs kick of Day 1 of "Jazz With Class."
4:45-6:00 PM: JAZZ IN THE MOVIES.  Cinema offers some of the most vibrant and sophisticated music available to mass audiences, yet film music remains an under-appreciated art form.  American movies and jazz have grown up together and bring unique and complementary elements to each other.  In this program, PLATO Jazz Coordinator Toni Jakovec presents rarely heard jazz-influenced compositions that inhabit popular movie soundtracks.
6:45-8:00 PM: GYPSY JAZZ.  Guitarist Chris Ruppenthal and his mates from the Caravan Gypsy Swing Ensemble present an historical overview of the music and times of Django Reinhardt, the most famous guitarist of the "Gypsy Jazz" genre and considered by most to be its founder.  Chris will be joined by guitarist Ed Fila, bassist Kevin Tipple, and clarinetist Greg Smith.
8:30-9:45 PM: THE CONNECTIONS OF JAZZ TO AFRO-LATIN MUSIC.  This lecture-performance program will explore the elements and historical connections of Jazz in Afro-Latin music from countries including Cuba, Brazil, Puerto Rico and Peru.  The performances will feature the Nick Moran Quartet plus Richard Hildner (Golpe Tierra, Natty Nation) on guitar and tres, and multi-percussionist and Puerto Rican powerhouse Willie Gracia (Grupo Candela, Son Contrabando).