May 20th, 2016 – Strollin' Verona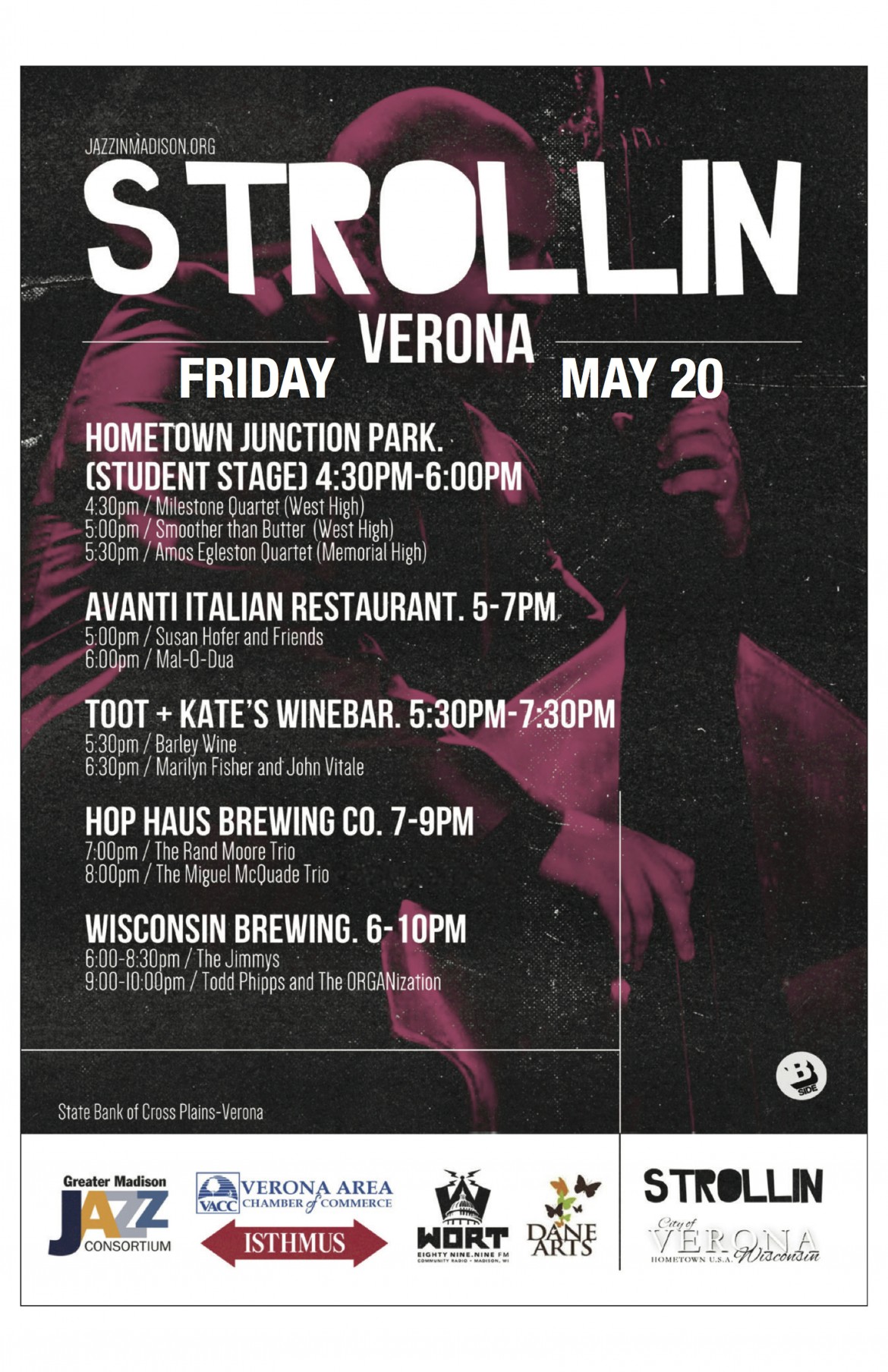 The Jazz Consortium's popular free Strollin' series of live music festivals returns for its third year with its successful formula: a stylistically diverse array of performances over the course of an evening at several nearby indoor and outdoor venues in "walkable" commercial districts, with no cover charges. In 2016, Strollin' will venture outside of Madison for two of the series' three events, starting in the City of Verona. Here's the performance schedule:
STROLLIN' VERONA
FRIDAY, MAY 20, 2016
4:30 – 6:00 PM: Youth Stage in Hometown Junction Park (South Main Street, at the Military Ridge Bike Trail):
4:30 PM: Milestone Quartet (Madison West High)
5:00 PM: Smoother Than Butter (Madison West High)
5:30 PM: Amos Egleston Quartet (Madison Memorial High)
5:00 – 7:00 PM: Avanti Italian Restaurant (119 South Main Street)
5:00 PM: Susan Hofer Duo
6:00 PM: Mal-O-Dua
5:30 – 7:30 PM at Toot and Kate's Wine Bar (109 South Main Street):
5:30 PM: Barley Wine
6:30 PM: Marilyn Fisher (vocals) and John Vitale (guitar)
7:00 – 9:00 PM at Hop Haus (231 South Main Street):
7:00 PM: Rand Moore Trio
8:00 PM: Miguel McQuade Trio
6:00 – 10:00 PM at Wisconsin Brewing Company (1079 American Way):
6:00 – 8:30 PM: The Jimmys
9:00 – 10:00 PM: Todd Phipps and The ORGANization
Strollin' Verona is made possible by a grant from the Dane County Cultural Affairs Commission and sponsorships from the Verona Area Chamber of Commerce, City of Verona, and the State Bank of Cross Plains-Verona.