September 8th, 2017 – Strollin' Middleton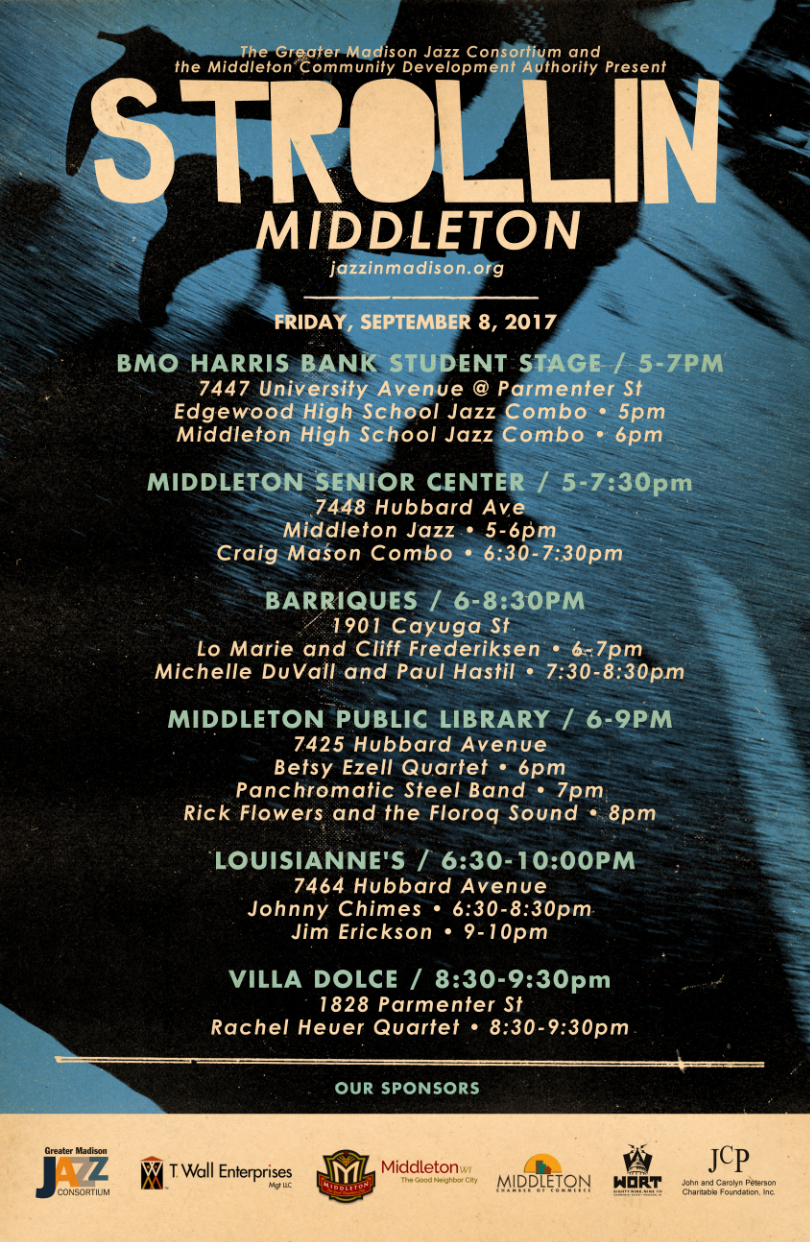 The Greater Madison Jazz Consortium and Middleton Community Development Authority Present "Strollin' Middleton" on Friday Evening, September 8th.
By popular demand, the Greater Madison Jazz Consortium's Strollin' series is returning to Downtown Middleton on Friday evening, September 8, 2017.  This jazz mini-fest will feature performances by twelve bands presenting five hours of continuous and stylistically diverse live music at six indoor and outdoor venues in Middleton's "walkable" downtown area east and west of Parmenter Street and south of University Avenue. Now in its fourth year, this popular "jazz stroll" series features a staggered performance schedule that makes it easy for attendees to stroll from venue to venue and sample many different musical styles.
The 2017 edition of "Strollin' Middleton" is the 11th "jazz stroll" produced by the Consortium in a series that began four years ago at Schenk's Corners on Madison's Near East Side.  The series has been warmly embrac ed by each of its host communities, and especially in Middleton where over 1,000 happy music fans attended last September's Strollin' event.
Once again, the Consortium's Nick Moran (an outstanding jazz bassist in his own right) has booked an intriguing mix of bands showcasing the wide range of instrumental and vocal jazz styles regularly available to Dane County audiences, including our community's outstanding professional musicians as well as student ensembles from Middleton and Edgewood High Schools.
From the Dixieland sounds of Middleton Jazz to the contemporary sounds of recent UW graduate Rachel Heuer and vocalist Betsy Ezell, from the New Orleans sounds of pianist Johnny Chimes to the funky urban jazz of Rick Flowers & The Floroq Sound and Caribbean jazz from Panchromatic Steel, there's sure to be something for every musical taste.  And you won't want to miss Panchromatic's world premiere performance of a new work by Miami (Ohio) University Professor Chris Tanner that was commissioned by the Jazz Consortium through its new Artistic Development Program.
Strollin' Middleton is made possible by sponsorships from the Middleton Community Development Authority, the Middleton Chamber of Commerce, and T Wall Enterprises, with additional support from each host venue, free will contributions from Strollin' attendees, a grant from the John and Carolyn Peterson Charitable Foundation, and promotional support from WORT-FM.
Contact for more information, interviews, and photos of the performers:
Nick Moran, (608) 217-6327, nickmoranbass@gmail.com