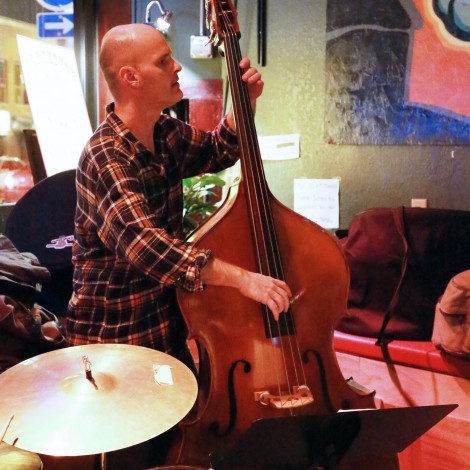 John Christensen began his bass studies with Chris Wood and continued his formal education by attending Berklee College of Music summer sessions and finally attending University of North Texas music program. After deciding on a more personalized education program John moved to San Francisco to begin gigging and study with renowned educator Dick Hindman. In the Bay Area John played and recorded with numerous bands including his own band Dam East, Mark Levine, Victoria Williams, Slide Five, Scott Amendola, Hal Stein, and The New Morty Show among others.

Since Moving to Madison in 1999 John has played with numerous local groups including Alison Margaret, Jan Wheaton, Harmonious Wail, Patrick Breiner, Dave Stoler, Kyle Henderson, and Gerri DeMaggio.

In 2012 John has embarked on a new journey by forming his own group The Landscapers, as well as Joining Johaness Wallman regularly on his trio gigs and touring with 2 collaborative ventures, The Deconunisms with Devin Drobka and Luke Polipnick, and Unnecessary Bells with Devin Drobka and Paul Hastil.

John continues learning and growing in 2013 through collaborations with Louka Patenaude, Jamie Breiwick, Scott Hesse, Chris Weller, Tony Barba, and Steve Nelson-Raney.
Johaness Wallman, Alison Margaret, Michael Brennies, Doug Brown, Darren Sterud, Tony Barba, Paul Hastil, Dave Cooper, Eric Koppa
johnthebassplayer@gmail.com