January 14th, 2018 – GMJC's Winter Jazz Festival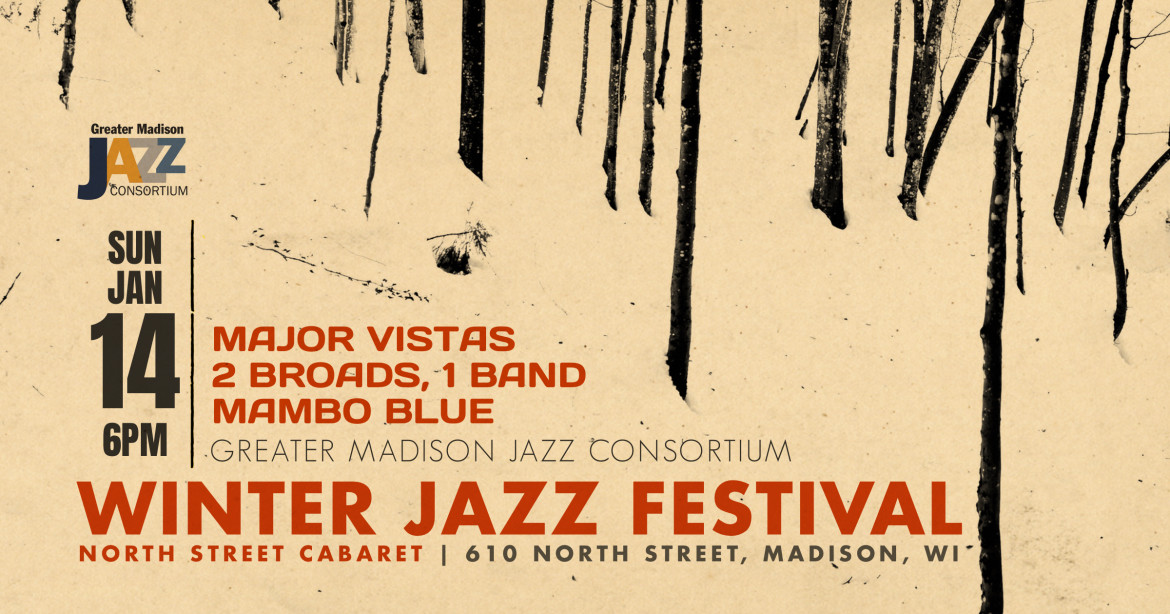 Come celebrate the Greater Madison Jazz Consortium by attending our Winter Jazz Festival at North Street Cabaret on Sunday, January 14 from 6-10pm.
The event features performances by talented local jazz ensembles. Major Vistas will kick off the evening with melodic, soulful and dynamic instrumental music. Mike Weiser, Chris Bucheit, and Geoff Brady form this unique trio which emphasizes original compositions and improvisation.
Next on deck will be a performance by 2 Broads, 1 Band featuring vocalists Carolynn Schwartz Black and Lo Marie performing a variety of standards backed by Madison jazz veterans Cliff Frederiksen, John Widdicombe, Dave Stoler, and Geoff Brady.
Last, but certainly not least, we'll be treated to a set by Mambo Blue, a latin-jazz quintet performing salsa repertoire of jazz standards featuring Vince Jesse, Paul Muench, John Mesoloras, Roberto Rengel, and Jim Huwe. It's jazz and salsa, so get your clave on!
The event starts at 6pm sharp, so make sure to come early to get your seat. Doors open at 5pm and seating is limited. A $15 donation at the door is requested. North Street Cabaret serves a small menu which changes weekly, so you can eat while you enjoy the music!
GMJC has initiated and incubated many essential community initiatives to advance jazz programs and performance in Madison and surrounding areas.
In addition to the more visible programs such as Strollin' and InDIGinous series, we've also provided artistic development grants for local jazz musicians and residencies in Madison's public schools to augment music education in the areas of jazz and improvisation.