InDIGenous -showcasing original compositions from our area's jazz musicians- Thursdays in April at Madison's Central Library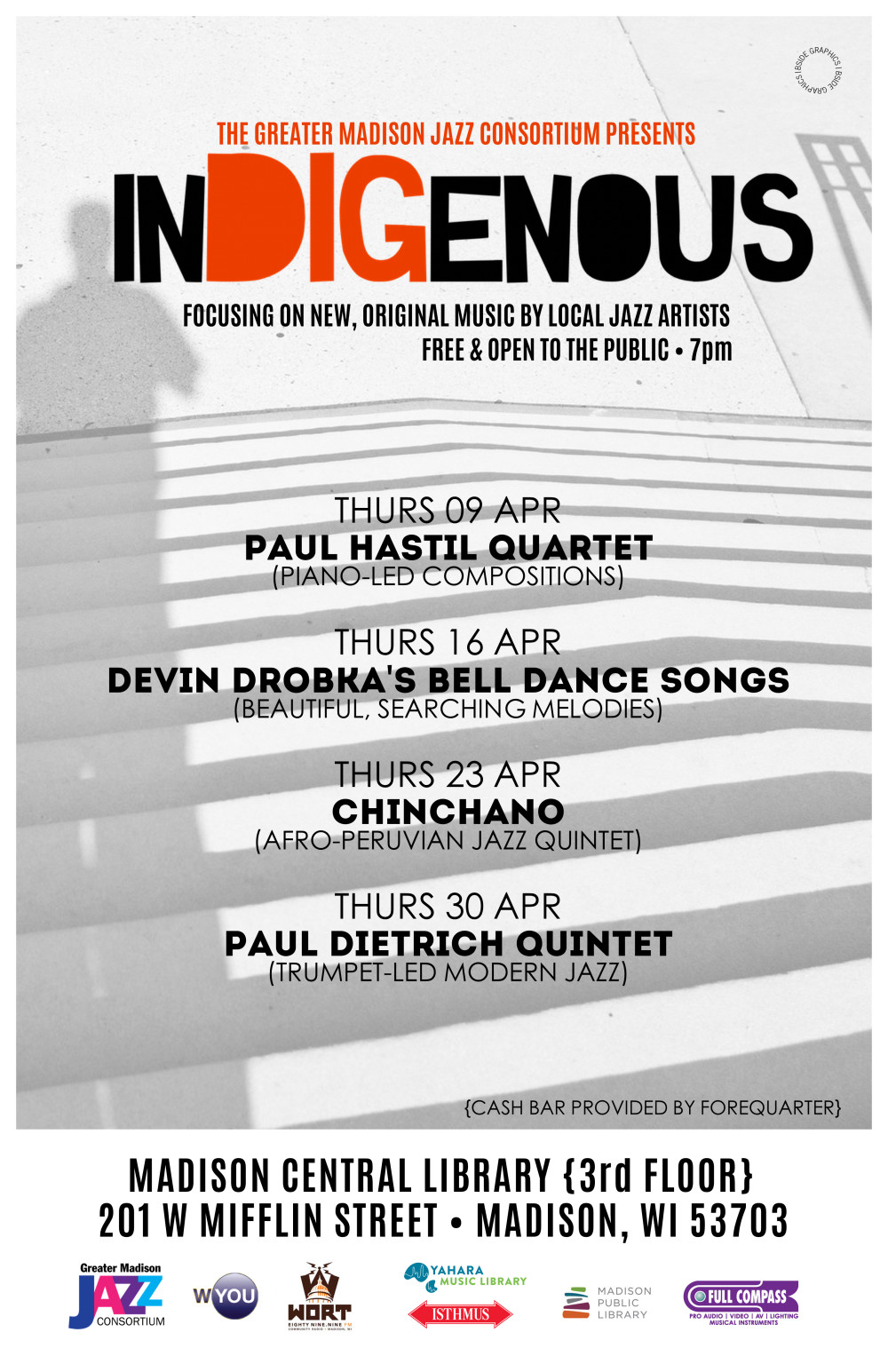 InDIGenous is a series of four concerts featuring original music composed and performed by jazz musicians from Greater Madison and other nearby communities. The series will run on four successive Thursday evenings, starting on April 9th the beautiful glass-enclosed third floor space of Madison Public Library's Central Branch. Each concert will include two sets of music, starting at 7:00 PM, and a cash bar provided by Forequarter.
Here's the line up:
April 9: Pianist Paul Hastil 
performing with guitarist Louka Patenaude, bassist Nick Moran, and drummer Michael Brenneis. Listen to Paul's original tune Sunday here.
Paul Hastil has been an extremely active member of The Greater Madison jazz scene for over 20 years. He is known locally for performing with Gerri DiMaggio, The New Breed and Ray Rideout. In this performance, Paul will showcase his vast body of original material and will feature Paul on fender rhodes as well as guitarist Louka Patenaude, bassist Nick Moran and drummer Michael Brenneis.
April 16: Drummer Devin Drobka
performing with his "Bell Dance Songs" band, including bassist John Christensen, tenor saxophonist Tony Barba and guitarist Jay Mollerskov. Listen to Bell Dance Songs here.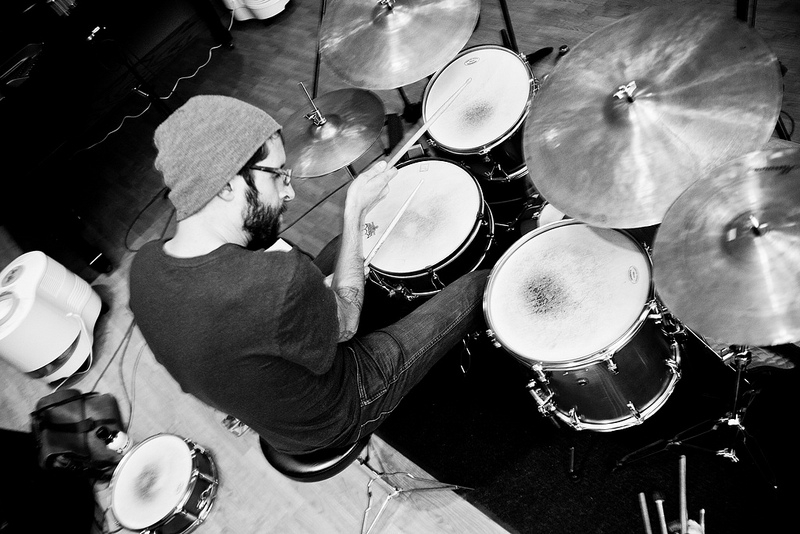 From Devin Drobka's website:  "These songs were written over a period of 3 years while i lived in Brooklyn and Milwaukee and are a series of dedications to various people and experiences. The band was finally assembled when I moved back to Milwaukee in 2013. Chris, Jay, and John are some of the midwest's most fearless improvisors and musicians and they make up the core of Bell Dance Songs.
The album was recorded live in my friend Sean Behling's basement studio in Racine. I wanted to capture the sound of everyone being together in one room for this project. It boarders on the intimacy of the live "jazz" concert experience and rawness that only improvising can offer."
Afro-Peruvian ensemble from Chicago. Listen to Chinchano here.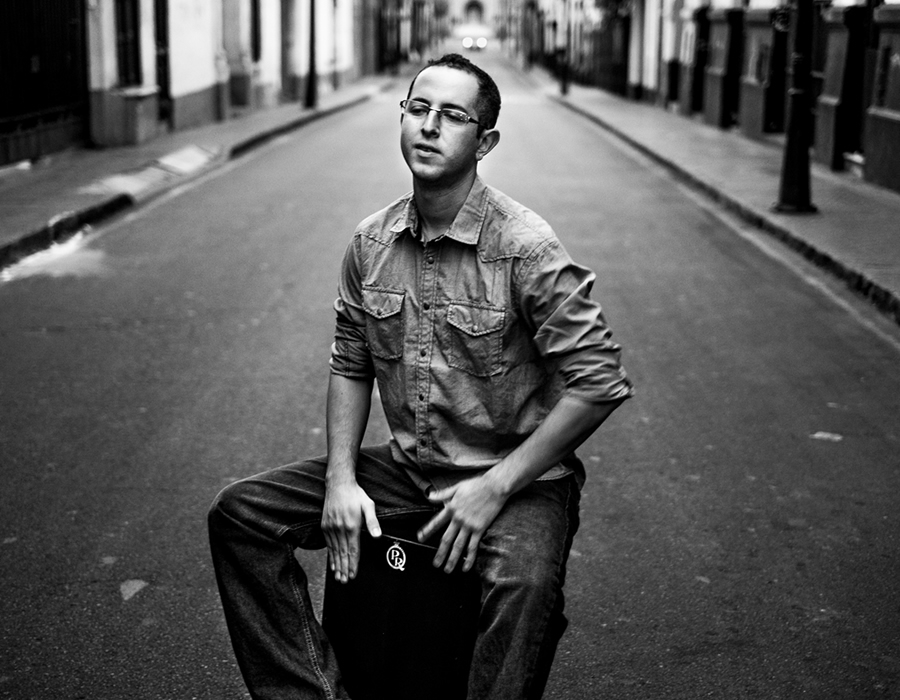 Chinchano is Juan Pastor's modern instrumental jazz group that fuses the traditional North American jazz harmonic palette with exciting rhythmic concepts drawn from Central and South America. This distinct sonic brand is revealed through not only the original compositions, but also in the unique drums/percussion setup that Juan brings to both the recording and to the live concerts. While each member of the group is a wonderful soloist in his own right, the collective aura of the band is that of generosity and gratitude, always serving the music in a way that invites the listener to feel equal parts comfortable, challenged, and intrigued.
April 30: Trumpeter Paul Dietrich
Listen to Paul Dietrich's new album here.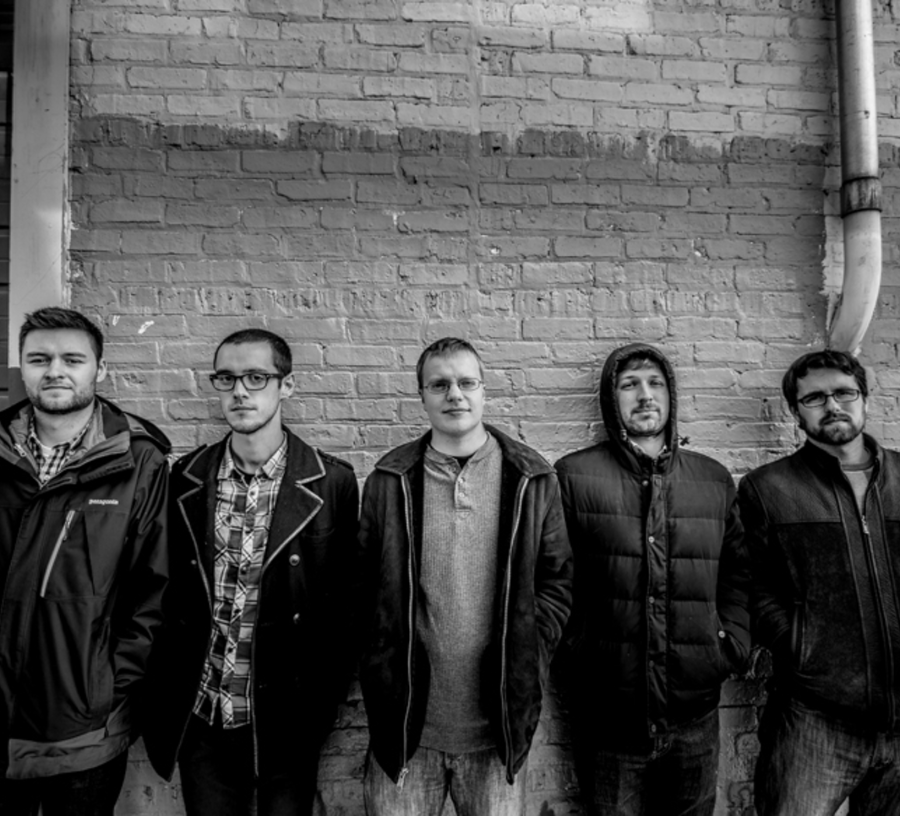 In early 2012 Paul formed the Paul Dietrich Quintet as a vehicle for his small group writing. The immensely talented lineup features Dustin Laurenzi on tenor saxophone, Paul Bedal on piano, Tim Ipsen on bass and Andrew Green on drums. Paul's style of modern jazz focuses on long-form writing akin to many of his major influences such as Robert Glasper, Maria Schneider, Darcy James Argue, Terence Blanchard, and Brad Mehldau. In 2014, the quintet released their debut album, We Always Get There, on Chicago's Blujazz label. JazzinMadison.org called the album "uniquely introspective" and praised Paul's playing, saying that "his solos follow big and captivating arcs."
In 2013 Paul moved to Madison, Wisconsin where he is active as a trumpet player, composer and educator. His band still plays regularly in Chicago, and he enjoys being in the city whenever he can make it.
---
InDIGenous is made possible by a grant from the John and Carolyn Peterson Charitable Foundation, with additional support from the Madison Public Library and Full Compass, and promotional support from Isthmus, WYOU, and WORT-FM.