The Greater Madison Jazz Consortium's Spring "InDIGenous Jazz" Concert Series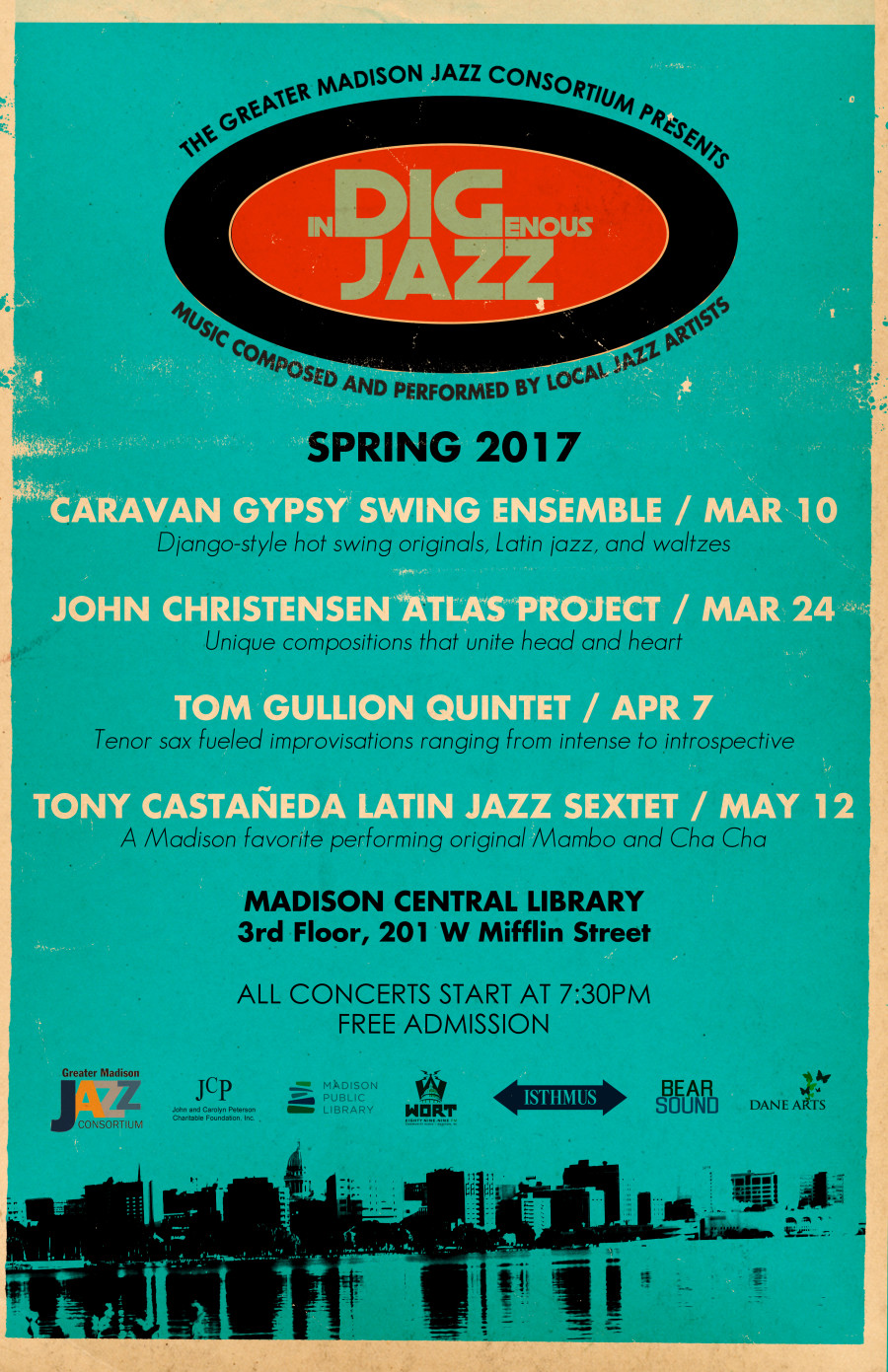 The Greater Madison Jazz Consortium's Spring "InDIGenous Jazz" Concert Series to Launch on March 10th at Madison's Central Library
Concerts of fresh original music, in a great listening room, with no cover charge.  That's what music fans will find in the beautiful glass-enclosed third floor space in Madison's Central Library on four Friday evenings this Spring, as the Greater Madison Jazz Consortium presents its fifth season of "InDIGenous Jazz", a series that showcases music composed and performed by our community's finest jazz musicians.  Here's the Spring series line-up.
March 10: Caravan Gypsy Swing Ensemble.

 

This acoustic instrumental quintet is primarily influenced by legendary Roma Gypsy Jazz guitarist Django Reinhardt.

 

Well-known for covers of vintage jazz classics and Gypsy Jazz-style renditions of tunes from the Great American Songbook, their InDIGenous Jazz performance will focus on music from their upcoming CD, their first of all-original music, that features a mix of Django-style hot swing, Latin jazz styles, and Parisian waltzes.

 

Band members include guitarists Chris Ruppenthal and Scott Hlavenka, clarinetist-saxophonist Greg Smith, bassist Kevin Tipple, and violinist John Henry. 
March 24: John Christensen's Atlas Project.

 

This concert celebrates the release of a new CD that features new compositions by group leader and bassist John Christensen.

 

The music is based on melodies that John heard in his mind's ear upon waking up in the morning, melodies that he describes as "sweet, simple and nursery-rhymey," and represents his attempt to "marry them with the experiences of living in the Midwest for the past 15 years" and the "sweet and subtle beauty of its landscapes and people.

 

For this concert, John's band-mates include guitarist Dave Miller, pianist Johannes Wallmann, and Andrew Green at the drums.
April 7: Tom Gullion Quintet.

 

Saxophonist Tom Gullion has built a reputation as an intuitive, emotional and melodic player, with a strong foundation in bop and modern jazz traditions, a sophisticated avant-garde sensibility, and quicksilver technique.

 

After touring globally and establishing himself on the European and Chicago creative music scenes, Tom is at the peak of his musical maturity, with two new CDs to his credit ("Carswell" and "Time It Is") featuring several of the musicians who will join him for this InDIGenous Jazz concert: trumpeter Dave Cooper, pianist Vince Fuh, bassist Mark Urness and drummer Dane Richeson.

 

Local fans may remember Tom's stunning solo work with the Tim Whalen Nonet at last Fall's InDIGenous Jazz finale concert. 
May 12: Tony Castañeda's Latin Jazz Sextet.

 

Percussionist Tony Castañeda has been one of our community's iconic musicians for over 30 years.

 

His sextet has been voted Madison's favorite jazz band for 16 straight years (2000-2016) in the Isthmus readers' poll, and is a three-time MAMA award winner.

 

For their InDIGenous Jazz concert, the Sextet will include original works from their CD, "Mambo o Muerte," as well as newly-written material by members of the band.

 

Along with Tony on congas and bongos, the Sextet includes saxophonist Anders Svanoe, guitarist Louka Patenaude, pianist Dave Stoler, bassist Henry Boehm, and Roberto Rengel on timbales.
Each concert begins at 7:30 PM, and will include two sets of music and a cash bar provided by Gib's, the new craft cocktail bar at 1380 Williamson Street.
The Spring 2017 InDIGenous Jazz concert series made possible by grants from Dane Arts (with additional funds from the Endres Mfg. Company Foundation, the Evjue Foundation, charitable arm of The Capital Times, the W. Jerome Frautschi Foundation, and the Pleasant T. Rowland Foundation) and the John and Carolyn Peterson Charitable Foundation, with additional support from Madison Public Library and media sponsors WORT-FM and Isthmus.