Coming in February and March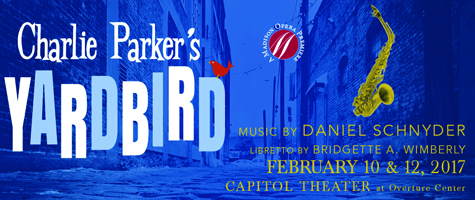 Madison Opera presents the Midwest-premiere of the acclaimed contemporary opera, "Charlie Parker's Yardbird," at the Overture Center's Capitol Theater on Friday, 2/10 (8:00 PM) and Sunday, 2/12 (2:30 PM).  With a score by composer and saxophonist Daniel Schnyder that melds jazz and opera, this production re-imagines iconic jazz saxophonist Charlie "Yardbird" Parker's last day on earth, in March 1955.  As his body lies unclaimed in the morgue, Parker returns in spirit to the jazz club Birdland, determined to compose a final masterpiece.  Family and friends, e.g., Dizzy Gillespie, Baroness Nica, Parker's mother Addie and fourth wife Chan, blend in and out of his memories in this acclaimed new opera that tells of his tortured, brilliant life through a jazz-infused score.  Tickets are available at https://tickets.overturecenter.org/single/PSDetail.aspx?psn=2605&_ga=1.94331357.1742485234.1474812269, by phone at (608) 258-4141, or in person at the Overture Center box office.
In conjunction with this production, Madison Opera is also offering a series of outreach programs during January, February and March for people interested in learning more about the art form, the development of "Yardbird" in particular, and Charlie Parker's life and music (including public library-based free events co-produced with the Jazz Consortium).  Schedule info and program descriptions can be found at http://www.madisonopera.org/education/talks/ and http://www.madisonopera.org/education/opera_novice/.