Big Band Music of Today: Keeping the Tradition Alive Saturday, April 18th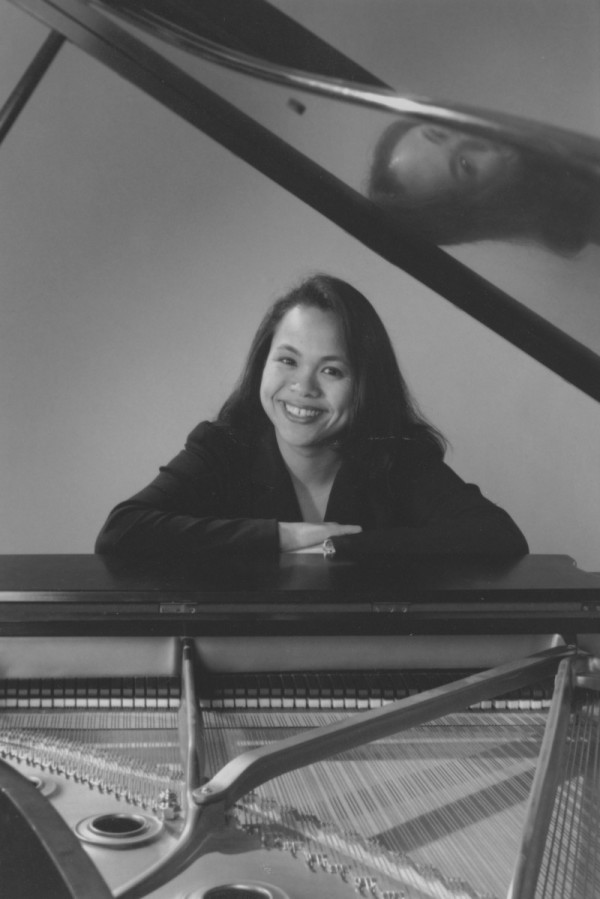 Composer/ conductor Ayn Inserto and trumpeter Jeff Claassen with the Madison College Big Band and Jazz Combo, UW Jazz Orchestra, and Mount Horeb High School'sTuesday Jazz
Featuring a world premiere by composer Ayn Inserto conducted by the composer, and music by Bob Brookmeyer, Fred Sturm and Paul Dietrich. Plus special guest trumpet player, Jeff Claassen.
Event: "Big Band Music of Today: Keeping the Tradition Alive"
Date: Saturday, April 18.
Time: 7:30pm
Location: Mitby Theater, Madison Area Technical College Truax Campus
Featuring: Featuring a world premiere by composer Ayn Inserto conducted by the composer, and music by Bob Brookmeyer, Fred Sturm and Paul Dietrich. Plus special guest trumpet player, Jeff Claassen
Ensembles: Madison College Big Band and Jazz Combo, UW Jazz Orchestra, and Mount Horeb High School's Tuesday Jazz.
With the support of Madison Area Technical College, Evjue Foundation, Madison Jazz Society, University of Wisconsin-Madison, and Mt. Horeb High School, groundbreaking jazz composer Ayn Inserto and the lead trumpet player of the Ayn Inserto Jazz Orchestra, Jeff Claassen, will be in Madison to premiere Ayn's "Ze Teach and Me", a two-part piece commissioned by Madison College Big Band (MCBB). During their stay in Madison, Ayn and Jeff will be sharing their expertise and passion for today's jazz big band music with the area's high school students, college students, and the community at large.
AYN INSERTO is a groundbreaking composer who is emerging as one of the preeminent voices of her generation. She received her Masters of Music degree in Jazz Composition from the New England Conservatory. She is a winner of the 2007 IAJE/ASCAP Emerging Composer Commission honoring Frank Foster, the 2003/04 and 2005/06 ASCAP Young Jazz Composers' Awards and has received various honors which include the Concord Pavilion Associates Marian McPartland Award, the Pacific Coast Jazz Festival Most Outstanding small jazz ensemble, and the 1999 Best Original Composition award at the Billy Higgins Jazz Festival.  She studied jazz composition with Bob Brookmeyer as his protege.
Her music has been performed at the Berklee Performance Center, 1999 and 2008 IAJE Conferences, California State University of Hayward Jazz Festivals, Reno Jazz Festival, Billy Higgins Jazz Festival, New England Conservatory of Music, Montreux Jazz Festival , the Umbria Jazz Festival, the Zeitgesit Gallery/Lily Pad, McGill University, Jazz at Lincoln Center Dizzy's Club Coca-Cola, 2008 Terni Jazz Festival, La Pietra in Florence, Italy, the 2008 Sant' Elpidio Jazz Festival in Porto San Giorgio, Italy, the 2009 Fano Jazz Festival in Fano, Italy, the Sydney Conservatorium and Melbourne.
Ayn has been commissioned by ASCAP/IAJE, Amherst College, Cal State University East Bay, Los Medanos College, Foxboro High School, Harvard Jazz Band, Marin Catholic High School and Fairfield High School, and by George Garzone to arrange his music featuring him as a soloist with jazz orchestra. In March 2008, she was invited as a guest artist by the Colours Jazz Orchestra led by Massimo Morganti to give a 3-day seminar on composition and arranging, and to conduct the jazz orchestra in a concert of her music. She was invited a second time to Italy in July 2009 to teach a master class at the Arcevia Jazz Seminar and as a guest artist with the Colours Jazz Orchestra.
She currently resides in Boston, is an associate professor of Jazz Composition at Berklee College of Music and teaches privately in Massachusetts. She released her first album, Clairvoyance, featuring Bob Brookmeyer and George Garzone in 2006. Her second album, Muse, was released February 2009, featuring George Garzone. Her third album, Home Away From Home, recorded by the Colours Jazz Orchestra in Fano, Italy was released May 2, 2014 in Europe and will soon be released in the USA.
The MADISON COLLEGE BIG BAND is a unique 25 piece jazz big band that brings together people in all different periods of their life, from Madison College students fresh out of high school to retirees. This ensemble is one of many arts opportunities that Madison College provides, helping to make Madison and the surrounding area the culturally rich community that it is. The Big Band meets Thursday evenings where it explores many periods of music for jazz big band and prepares for performances that are held throughout the year. These performances range from community fundraisers at the Goodman Community Center to graduation ceremonies at Madison College.
MCBB has commissioned composer Ayn Inserto to write a piece of music dedicated to her late mentor, Bob Brookmeyer. Ms. Inserto will be directing MCBB in the world premiere of "Ze Teach and Me" on Saturday, April 18 at 7:30pm in Madison College's Mitby Theater. The entire performance will feature "Big Band Music of Today." MCBB will share the stage with University of Wisconsin-Madison's Jazz Orchestra, under the direction of Johannes Wallmann, and Mt. Horeb High School's TuesdayJazz directed by Kellen Dorner. During Ayn's and Jeff's visit to Madison (April 15 – April 19) they will be giving master-classes, directing rehearsals, and giving one-on-one lessons at Madison College, University of Wisconsin-Madison, and Mount Horeb High School.
Jazz trumpeter, director, composer, and educator JEFF CLAASSEN is lead trumpet in the Ayn Inserto Jazz Orchestra. Jeff has performed with Paquito D'Rivera as well as Bob Brookmeyer's New Art Orchestra. He is the director of Berklee College of Music's "5 Week Big Band" where he also teaches classes ranging from Music Theory to the Music of Duke Ellington.
Having Ayn Inserto and Jeff Claassen in Madison to share their wealth of knowledge of today's jazz will inspire the area's rich music community to embrace the big band repertoire of today. If we do not seek out and perform the music that has been written in the last 20 years and commission talented young composers to write for our ensembles, the connection to yesterday's jazz will be forever lost. Thank you for your support of this effort.